Can we add a thing here that says: This year will be the kickoff for our new programming series, Faith Infusion! This series is in partnership with WhyArts?, whose mission is dedicated to providing Omaha's underserved populations with access to quality arts programming. More information about them can be found here: whyartsinc.org
Our hope is that through this new programming series, Faith Infusion we will find our faith in unique ways, using the arts as tools to empower our children. Remember that all are welcome at Sunday School t, so please invite family or friends! To look at our calendar of events you can look on our Facebook page or website!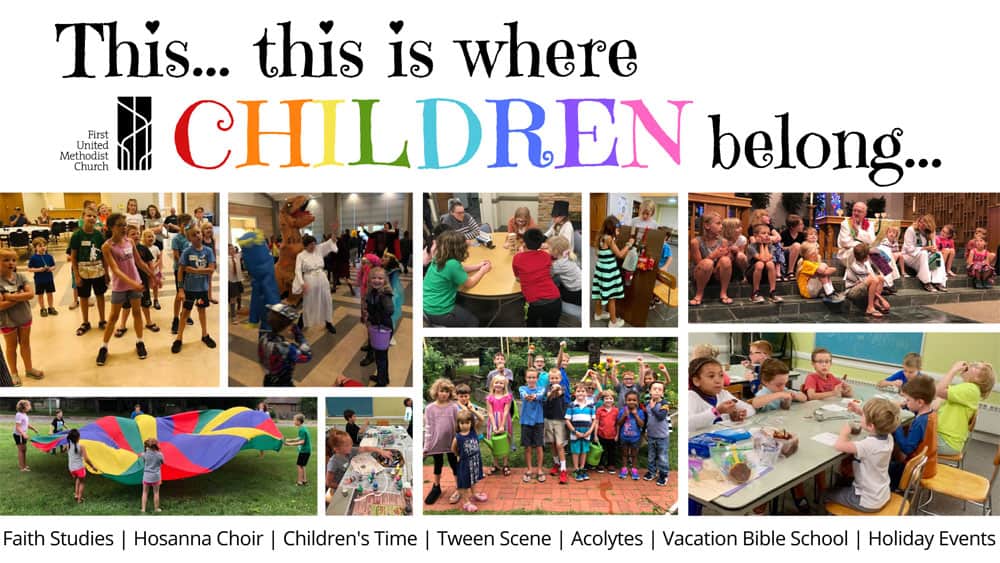 COVID-19 UPDATE: In adherance to the CDC's recommendations to limit social gatherings, First United Methodist Church is only offering one in-person worship service at this time. You can join us in worship on Sundays at 10:50 am in-person or online, via www.facebook.com/FUMComaha. You do not need a Facebook account to view the video. Some of the classes are meeting online and some are returning to in-person. For some it varies week to week depending on cases, and right now our nursery is not available due to COVID
Faith Studies (Sunday School)
We are committed to Christian education, as well as encouraging families to worship together, and therefore we offer Sunday school year round during a separate education hour in between services.
Lessons are grounded in a progressive theology that affirms all people as sacred, beloved and beautiful. Children explore what it means to "love God and love your neighbor as yourself" through different spiritual practices. We teach children that they too can make a difference in our community with their prayers, presence, gifts, service and witness.
Children may start attending Sunday school as soon as they turn three, even if it is in the middle of the school year. We are excited to start young hearts on the journey of Christian discipleship!
Children meet every Sunday morning, 9:30 – 10:30am, for faith-based learning and fun. Hosanna Choir will rehearse during the hour and then the children will break into age-appropriate groups for fun and learning. Drop-off and pick-up of children will occur in their individual classrooms.  We hope to see you there!